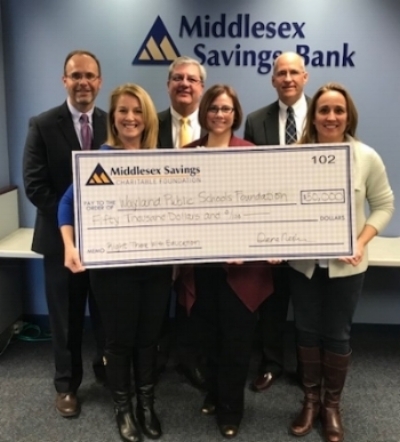 THANK YOU, Middlesex Savings Bank!
This $50K gift will be used to fund grants to benefit all five Wayland Public Schools.
From left to right:
Mike Kuza, Assistant Vice President, Community Relations and Foundation Officer, Middlesex Savings Bank, Bryan Christensen, Senior Vice President and Director of Community Banking, Middlesex Savings Bank, Mike McAuliffe, President and CEO of Middlesex Savings Bank, Angela Malkin, WPSF Vice President, Nicole Spiewak, WPSF Marketing, Liza Knapp, WPSF President at the "Big Check" ceremony on February 9, 2018.
About WPSF
Continual innovation is a hallmark of educational excellence in Wayland. Your annual donations give life to our teachers' progressive ideas -- approaches that will engage K-12 students in exciting new ways and solidly prepare them for what lies ahead. Because many of these innovations are long lasting, today's elementary students will benefit fully as they reach middle school and high school.
Who We Are
Staffed by parent volunteers, the Wayland Public Schools Foundation (WPSF) is the one organization in Wayland dedicated to funding innovative educational resources at all five Wayland Schools.
For Supporters
SPRING PARTY 2018:  OUR annual Spring fundraiser: Kentucky derby Style WAS a HUGE SUCCESS!  
The success of this year's party would not have been possible without the support of the many businesses and individuals that contributed their time and auction items. Thank you to the Wayland community for supporting our annual Spring Fundraiser and the WPSF's mission.
FIND OUT MORE >
Annual Appeal
Make a donation to the Wayland Public Schools Foundation. Thank you for your crucial support! 
DONATE NOW >
HATS Off to Teachers & Staff!
The perfect way to show appreciation and honor teachers and staff. Make a donation and honorees will receive a certificate with your personal greeting. Our new online form makes HATS Off easier than ever.
FIND OUT MORE >
Congratulations to THE 2018 WPSF Spelling Bee Participants!  
The Wayland Public Schools Foundation hosted the 27th Annual Spelling Bee on Sunday, March 18th, 2018.  The annual Spelling Bee is a fundraising event for the Foundation, welcoming over 350 elementary Bee participants, 70 community volunteers, and over 1000 guests.  
FIND OUT MORE >
Application Process
Find out more about our grant process, download applications and forms, and more.